COUNTY NEWS
NOTTINGHAM CARE HOMES UNDER INVESTIGATION FOR CHILD ABUSE AND PAEDOPHILIA
AS MORE AND MORE PEOPLE COME FORWARD a dark picture is beginning to emerge in Nottingham. It's increasingly becoming apparent that child abuse and paedophilia has been rife within Nottingham's social services. The allegations of paedophilia, child abuse and related cover ups are so widespread, not just in Nottingham but across the country, that I almost don't know where to begin. The Beechwood children's home in Mapperley, Nottingham seems like an appropriate place to begin.
For decades the Beechwood home was run by Nottinghamshire County Council, control of which  has changed hands between Labour and the Conservatives over the years. In 1998 Nottingham City Council was given unitary status and was thereafter responsible for all services within the city boundaries. This included the Beechwood children's home. The Labour-controlled City Council subsequently ran the home until its closure in 2006.
The first allegations of sexual abuse at the Beechwood home came in 2011 when Nottinghamshire Police confirmed they had "received information from six complainants alleging systematic child abuse at Beechwood Community House." Since then numerous people have come forward to speak of the sickening abuse they claim to have been subjected to while in the Council's care.
One woman who wished to remain anonymous told the Nottingham Post: "I was raped in the first week I was there and physically assaulted by the staff at different times." The long term effects of such traumatic ordeals are evident as she continued: "We had our hearts and souls taken from us. At least 12 of the children I was there with have since overdosed or committed suicide."  
Another ex-Beechwood victim says one of his abusers would take him down to the cellar and beat him whilst wearing a Freddie Kruger mask. He goes on to say that he "saw one lad tied by his ankles and hung upside down from a curtain pole. He was screaming. There was nothing I could do."
Another victim, James Cleverley, said he suffered six years of abuse at the Beechwood children's home. Mr Cleverley of Netherfield, Nottingham, who courageously waived his right to anonymity in the hope that it would encourage more people to come forward, claims he was forced to perform sex acts on male members of staff and that despite reporting it to the police, no action was taken. 
In 2002 fifteen-year-old Sarah Harrison committed suicide at Beechwood. The tragic incident came just five months after the National Care Standards Commission had advised the closure of the home because it had become "steadily more unstable and difficult to manage." 
In May 2014 the Nottingham Post reported that 26 former residents of the Beechwood home had been awarded a total of £250,000 in compensation. The City Council said the claims were settled without an admission of liability.
Why pay out if they're not liable? Are the Council paying the victims off to keep them quiet?
The Council confirmed there were a "significant number" of other claims they were dealing with. It has since emerged that these claims relate to more children's homes in the Nottingham area.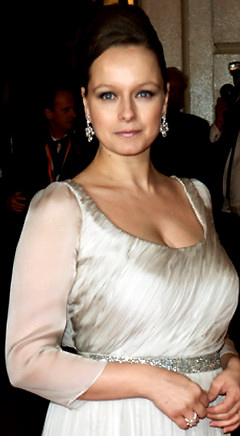 Samantha Morton, two-time Oscar-nominated actress, BAFTA Award winner and Golden Globe Award winner (pictured right), has recently come forward to tell of her own horrific experiences as a child while in care at Nottingham's children's homes. 
In an interview with the Guardian newspaper, Morton, now 37, alleges that she was sexually abused by members of staff at the council-run Red Tiles home in Bulwell, Nottingham. Despite reporting her abusers, she says no action was ever taken and they were never prosecuted. Following her complaints Samantha was moved to a different children's home while her alleged abusers were "downgraded but allowed to stay in the home." As far as she is aware, no investigation has ever taken place.
The Minority Report actress does not name the care home that she was transferred to from Red Tiles but she says it was "the worst, absolutely horrific there." She says she was never sexually abused there but was physically and violently abused and claims to have been punched in the face by a male social worker for telling him to 'f*** off'.
She goes on to say that sexual abuse is widespread in Nottingham and that "it goes high up." She added: "A lot of people who abused my friends were in very, very top jobs within the social services." She later confirms the interviewer's statement that "what was going on was protected right up the ranks."
The scope of the alleged abuse is shocking. To date the number of allegations of abuse at children's homes in and around Nottingham has reached 95, while the number of homes currently being scrutinized is 13. They are:
Beechwood House, Mapperley, Nottingham.

Bracken House, Bulwell, Nottingham.

Wood Nook, Beechdale, Nottingham.

Risley Hall, Derbyshire.

Amberdale, Stapleford, Nottingham.

Brick House, Radcliffe-on-Trent, Nottingham.

Forest Lodge, Hyson Green, Nottingham.

Greencroft, Clifton, Nottingham.

Laybrook, Mansfield.

Red Tiles, Bulwell, Nottingham.

Skegby Hall, Sutton-in-Ashfield.

Sycamore House, Sherwood, Nottingham.

Wollaton House, Wollaton, Nottingham.

Hazelwood, Nottingham.
So what, if anything, has been done to bring the perpetrators to justice?
In 2011 Nottinghamshire Police launched Operation Daybreak, an investigation into allegations of abuse at Beechwood from the 1960s to 2000. The investigation has now been extended to the other 12 centres mentioned above. Officers have confirmed that the investigation has led to ten arrests. Of the ten men arrested, seven have been released with no further action, one has died while on police bail and the other two remain on bail. The investigation is ongoing.
Is that it?
No less than 95 people have come forward to make allegations of paedophilia and physical abuse against Nottingham's County and City Council employees over a period of decades, £250,000 has been paid out in compensation, yet the 'massive' investigation that's been ongoing for the past three years has failed to prosecute a single person. Why has no one been charged? Has anyone even so much as lost their job? 
Melanie Shaw (pictured left) is alleged to be a key witness and victim of the Beechwood care home scandal. On 11th July 2014 UK Column reported that she had gone missing. A few days later it emerged that Shaw was being held in HMP Peterborough and had been charged with arson and criminal damage – charges she denies – and was remanded to appear at Nottingham Crown Court on 25th July. 
Shaw's trial on 25th July was, according to members of the public who attended, a sham. They allege the prosecution presented no substantive evidence and at no point was Ms Shaw asked to speak in her own defence. Even her own legal team – who she has now sacked – failed to challenge the lack of evidence. Shaw was placed back on remand.
UK Column reports that Ms Shaw strongly suspects the police, local authorities, and MPs of attempting to cover up the Beechwood abuse and that she is now being persecuted and falsely imprisoned because she has exposed a paedophile ring.
While on remand Melanie, mother-of-two, was languishing in a Category B, privately owned for-profit prison, ran by French firm Sodexo, where she was reportedly bullied, denied her medication and held in solitary confinement.
She appeared back in court on 28th and 29th October accused of setting her neighbours' shed alight and vandalising their property with paint and graffiti. Throughout her trial church-going Melanie vehemently denied the charges against her.
Members of the public who attended her trial claim the judge fell asleep on numerous occasions and that he referred to the Beechwood case as 'Melanie's conspiracy theory'. They claim they heard that one of the witnesses who gave testimony against Melanie was 'press ganged' by the social services into giving evidence against her and that the handwriting expert said that she could not exclude the possibility that someone else wrote the graffiti.
Melanie was found guilty of criminal damage and arson with being reckless to endanger life and has been bailed to await a psychiatric evaluation before her sentencing will commence.
Another victim of the atrocities that have gone on in Nottingham's children's homes is Mickey Summers. Summers, who grew up in the Meadows area of Nottingham before going into care, claims that during his time at the Hazelwood care home he was molested by a member of staff and later raped in a car park.
Summers says he initially contacted Nottinghamshire Police and Nottingham's childcare services in 2003 to report what had gone on in Beechwood and other homes but claims he was not taken seriously.
He has requested records under the Data Protection Act relating to the time he was abused while in council care but despite a two week search the records could not be found. The City Council now says the records were destroyed in 1978.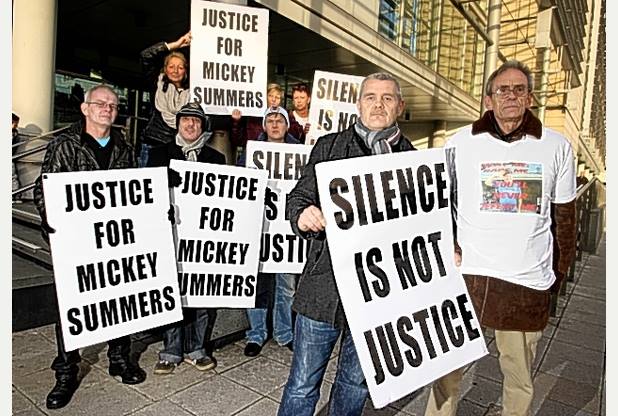 Summers says he was told that the calls he made in 2003 would have been recorded and logged. He claims he has demanded the logs but just like his child care records they too have disappeared.
He has demanded a full public apology from Nottingham's City and County Councils but both authorities have refused to do so "until his allegations, and those of other alleged victims, can be proven."
So they've paid out £250,000 in compensation to the alleged victims but they won't make a public apology 'until the allegations can be proven'.
Summers alleges both Nottinghamshire Police and the Labour-run Nottingham City Council were aware of the allegations of child abuse in Nottingham's care homes in 2003 but failed to act on them. Today, he openly accuses both authorities of being complicit in a widespread cover up and claims he has proof. His campaign for justice continues.
So just what is going on? Are all these people who are claiming to be victims of child abuse lying? Is the whole sordid affair an instance of gross incompetence on behalf of Nottinghamshire Police and the City and County Councils? Or worse still, is there something more sinister going on?
Nottingham City Council have stated that any accusations of a cover-up are completely without foundation, while Samantha Morton, Melanie Shaw, Micky Summers and many more say Nottingham's authorities are complicit in the abuse and have attempted to keep it covered up for a long time.
It comes at a time when it has emerged that 1,400 children were subjected to rape, sexual exploitation and trafficking in Rotherham between 1997 and 2013 by Pakistani, Muslim men but the local Labour authorities there 'turned a blind eye to it out of fear of being branded racist' and have been accused of actively covering it up. Coincidentally (or not?) the files relating to the victims' cases in Rotherham have 'gone missing'.
Accusations of sexual abuse in children's homes or child abuse cover-ups seem to be quite widespread in the UK with known cases in Devon, North Wales, Rochdale, Jersey and even Westminster.
Are Nottingham and Rotherham just the tip of the iceberg?
get INFORMED
Local News 
Nottingham Care Homes under Investigation for Child Abuse and Paedophilia