Cameron at PMQs: Politics live blog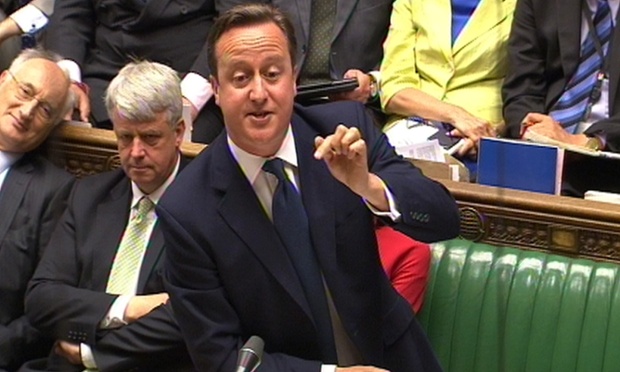 Live
Sort by:
Latest first
Oldest first
Afternoon summary
• The Foreign Office has claimed that documents on the UK's role in the CIA's global abduction operation were destroyed accidentally when they became soaked with water.
• The Green party has joined those saying Lady Butler-Sloss should stand down as chair of the child abuse inquiry.
(See
4.22pm.)
• Labour has highlighted figures showing that the number of patients in England waiting for key diagnostics tests which detect cancer and other diseases has reached a six-year high.
As the Press Association reports, NHS England data show that in May, 18,664 patients were waiting six weeks or more for 15 diagnostic tests including MRI and CT scans, audiology assessments or cardiac echoes. The figure has almost trebled over the last year – in May 2013, 6,899 patients were waiting for more than six weeks for these tests.
Andy Burnham
, the shadow health secretary, said: "Patients are waiting longer for crucial tests – causing stress and real anguish for worried families."
That's all from me for today.
Thanks for the comments.
Here's a short afternoon reading list.
• James Naughtie at the BBC explains why journalists did not take Geoffrey Dickens' paedophile allegations too seriously in the 1980s.
There was little of the public concern with paedophilia at the time, almost as if a kind of innocence still attended the subject: many people were simply unwilling to imagine acts that are now discussed openly, and there was no welter of internet comment and campaign on the subject.
Indeed, a sense of disbelief still swirled around the subject. And the trouble was that Dickens, well known as a rent-a-quote MP with a colourful opinion ready to be pulled out of his hat at a moment's notice, was the worst person to dispel it.
He was no methodical campaigner, pursuing his leads and building his case, but a slash and burn man ready to speak about dark conspiracies (he pointed to burglaries at his home and threats against him after speaking about paedophilia), but without a steady hand on the tiller. In the end, it was Geoffrey and people would shrug their shoulders.
• Richard Moorhead on his Lawyer Watch blog explains why Lady Butler-Sloss should stand down from the child abuse inquiry.
The rather simple question is whether a reasonable and fair minded individual would be likely to perceive that the judge may not be impartial. Reasonable people may differ on the view but I would suggest that, as Lady Butler Sloss reflects on the unfolding situation, she will return to the point that no judge who knew material allegations were to be made concerning a relative of his or hers in a trial – even if that relative were not a defendant – would sit on that trial. She cannot yet know whether or how material her brother's involvement is in the handling of child abuse allegations within the 'establishment'. But the risk that she will find herself in an impossible situation is significant enough for her, on reflection, I suspect, to step back.
The Green party has joined those calling for Lady Butler-Sloss to stand down as chair of the child abuse inquiry. This is from
Natalie Bennett
, the Green party leader.
It is unacceptable that Lady Butler-Sloss oversee an inquiry into a possible cover-up of paedophile activities at Westminster in the 1980s given that her brother, Sir Michael Havers, was attorney general at the time. She must step aside.
However unimpeachable Lady Butler-Sloss's reputation may be, justice must be seen to be done and conflicts of interest like this cannot be tolerated.
No one should be expected to investigate a close member of their own family as part of an official inquiry. The Green party believes that only a credible figure from outside the circles being investigated will have the trust of the public to look into the alleged systematic sexual abuse of children by politicians and other members of the establishment.
Earlier I described David Cameron's claim that patients at Stafford Hospital (run by the Mid Staffordshire NHS trust) were left to drink water from vases as an urban myth. (See
1.20pm.)
Having checked, I see that I was wrong. I was relying too much
on the change.org petition.
Robert Francis QC conducted two inquiries into Mid Staffs.
The first was published in February 2010.
In
the report (pdf)
, on page 48, he said he had not heard any evidence that patients drank from vases.
As it happened I did not hear any direct evidence about any incident involving vases. Such an incident is not directly reported in the Healthcare Commission (HCC) report. There was, however, much reference to patients drinking out of vases in the press.11 I am therefore unable to express a conclusion about whether this occurred or not.
Then Francis was asked to carry out a more detailed inquiry. As part of that, he took evidence on Monday 22 November 2010 from Julie Bailey, whose mother died in the hospital. You can read the transcript here (pdf). On page 104 she specifically talks about patients drinking from vases.
There was two particular patients that they would just wander around looking for drinks. I asked the staff if they would leave drinks out at night. They said they couldn't. It was health and safety. "Why can't you just leave them a drink?" "We have to take the jugs away". So that was where the drinking out of flower vases came from, because they could find nothing else to drink, so they would drink out of the flower vases.
Bailey was later asked specifically if she saw patients drinking from vases. She replied: "Myself, I saw that myself, on several occasions." There is a news story about this here.
As far as I can tell, there is no reference to patients drinking from vases in the final report, which was published in February last year. But Francis did talk about water being left out of reach.
The first inquiry heard harrowing personal stories from patients and patients' families about the appalling care received at the Trust. On many occasions, the accounts received related to basic elements of care and the quality of the patient experience. These included cases where:
– Patients were left in excrement in soiled bed clothes for lengthy periods;
– Assistance was not provided with feeding for patients who could not eat without help;
– Water was left out of reach;
So, it's not an urban myth.
It would, perhaps, be wrong to imply that drinking from vases was rife at Mid Staffs (as Cameron often suggests), but there is first-hand evidence to show that this happened.
Lunchtime summary
• Opposition to the appointment of Lady Butler-Sloss as chair of the panel of inquiry into child abuse has been growing at Westminster with lawyers and key MPs, including the new chair of the health select committee, urging her to stand aside.
Downing Street has defended her appointment. At PMQs Ed Miliband did not question Butler-Sloss's suitability for the post. But
Emily Thornberry
, the shadow attorney general, said Butler-Sloss was in "a very difficult position" because her brother, Michael Havers, was attorney general in the 1980s when the authorities were accused of covering up child abuse allegations. Thornberry said:
Her brother was Lord Havers, her brother was Attorney General. Geoffrey Dickens gave two dossiers – he gave one to the Home Office and gave the other one to the DPP (Director of Public Prosecutions) – and the DPP copy has also gone missing and at the time the DPP was answerable to the Attorney General. I don't question this admirable extraordinary woman's integrity… But I'm surprised the Home Office didn't look at this, because I think they have put her in a very difficult position.
Simon Danczuk, the Labour MP who has taken a leading role in campaigning against child abuse, has said Butler-Sloss should resign and Ben Bradshaw, the Labour former cabinet minister, has also called her unsuitable.
But the actor Nigel Havers, Lord Havers' son and Butler-Sloss's nephew, has defended his aunt's appointment. He told the World at One:
I know my aunt very well and had she felt any form of bias or any idea that she shouldn't be doing this inquiry she would have pulled out this morning.
The very fact that she hasn't means to me that she feels she has absolutely had no political ties to my father and knew nothing about what was going on in the House of Commons at that time and therefore she has every right to, I think, continue to lead the inquiry.
• Cameron has told MPs at PMQs that "it may well be time" to change the law to make covering up child abuse a crime. After the NSPCC came out in favour of this plan, Cameron said:
Should we change the law so there is a requirement to report and make it a criminal offence not to report, the Government is currently looking at that and of course both reviews will be able to examine this particular point and advise us accordingly. I think it may well be time to take that sort of step forward.
• Cameron has confirmed that the Conservatives will propose tightening strike laws in the 2015 election manifesto. He told MPs:
I don't think these strikes are right … I think people should turn up for work. I think the time has come for looking at setting thresholds in strike ballots … The (NUT) strike ballot took place in 2012, based on a 27% turnout. How can it possibly be right for our children's education to be disrupted by trade unions acting in that way? It is time to legislate and it will be in the Conservative manifesto.
As well as introducing a threshold, requiring a certain percentage of a union's membership to vote for strike action, the Tories may propose limiting the time the legal authorisation provided by a strike ballot lasts.
• Cameron has signalled that the government will legislate to make "revenge pornography" an offence. The issue was raised at PMQs by the former culture secretary, Maria Miller. She told Cameron:
The safer internet centre estimates up to 30 websites host UK online revenge pornography images, another form of sexual abuse. Do you agree that posting such material has to be recognised for what it is – a criminal sexual offence against its victims?
Cameron replied:
You are absolutely right, this is an appalling offence, a dreadful thing for someone to do and it clearly has criminal intent. I'm very glad you are championing this cause and I hope, having looked in detail at the amendments you are suggesting, we can take up this cause.
• Chris Bryant, a shadow welfare minister, has accused Iain Duncan Smith, the work and pensions secretary, of "a deliberate act of deception" over universal credit. Bryant said that the Department for Work and Pensions claimed that the Treasury had approved the business case for universal credit when, in fact, Sir Bob Kerslake, head of the civil service, told a committee on Monday that the long-term business case had not been approved. John Bercow, the Speaker, rebuked Bryant for accusing Duncan Smith of deception (a term deemed unparliamentary). Duncan Smith said Bryant was making a "pompous, ludicrous statement". He said the DWP was entitled to say the business plan was approved because it was going to be fully approved shortly.
The strategic outline business case plans for this parliament have been approved and the employment minister [Esther McVey] made that clear the other day and that is the statement that we stand by … The strategic outline business case for the overall lifetime of the programme – those plans are in discussion and we expect approval of that plan shortly.
I have said categorically that all the expenditures and the work within this Parliament is approved. So the reality is it is approved.
• Simon Hughes, a justice minister, has said the government is trying to stop the European Union from agreeing to introduce a "right to be forgotten" on the internet. As the Press Association reports, Hughes was speaking in evidence to the Lords home affairs Committee, follow a landmark ruling by European Court of Justice that search engines like Google have to consider requests to wipe links to news stories. Hughes stressed that the judgment did not give an "unfettered" right to have links deleted.
There is no right given by the judgment for people to have their personal data deleted from the search engine results. There is no unfettered right. There is no right to be forgotten.Not in the law of the UK, not in directives, not in the judgments of the court.
He also said the government was keen to balance the right of privacy with the right to freedom of speech, and was trying to hammer out a coordinated approach to the issues with other member states.
The government is currently negotiating with our 27 partners to get a new law, which is the new directive. We would not want, the UK would not want, what is currently in the draft, which is the right to be forgotten, to remain as part of that proposition. We want it to be removed. We think it is the wrong position.
• Jean-Claude Juncker has insisted he will not seek to block British efforts to claw back powers from Brussels despite David Cameron's failed bid to prevent him becoming president of the European commission.
• Sir Michael Wilshaw, the head of Ofsted, has suggested closer scrutiny of schools may be needed as he confirmed the watchdog has visited other towns and cities in the wake of the alleged "Trojan horse" takeover plot in Birmingham. Giving evidence to the education committee, he said Ofsted had visited schools in areas including Bradford and Luton due to concerns about how they are being run.
• William Hague, the foreign secretary, has said that chemicals supplied by British firms to Syria in the early 1980s are likely to have been used to make nerve agent sarin. (See 11.27am.)