New probe into William Goad paedophile ring allegations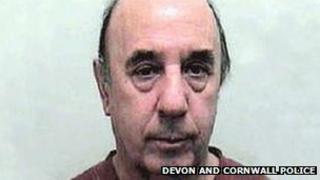 A new investigation linked to "voracious and predatory" paedophile William Goad could uncover "hundreds" more victims, an ex-detective claims.
Goad, who is believed to have abused up to 3,500 boys, was jailed in 2004 at Plymouth Crown Court. He died in prison of natural causes last year aged 68.
Ex-detective Shirley Thompson said she believed a paedophile ring linked to Goad could still be active.
Devon and Cornwall Police said Det Insp Mike Cooper would lead the new inquiry.
'Close the book'
Goad, who lived in Plymouth, abused boys over a 35-year period dating back to the 1960s.
During his trial, prosecutor Martin Meeke QC described Goad as a "voracious, calculating, predatory and violent homosexual paedophile".
He pleaded guilty to 14 specimen counts of serious sexual assault and two counts of indecent assault and was sentenced to life in prison.
The new investigation follows a complaint from one of Goad's victims.
Paul Wyatt, 44, who has waived his right to anonymity, told BBC News that Goad, who abused him for four years from the age of 12, was part of a "bigger network of paedophiles" which included people in positions of "power and trust".
"There are people who have sold their soul to the devil, without a doubt," he said.
Mr Wyatt's complaint – that some allegations of abuse by Goad and others were ignored by police during the original inquiry – was investigated internally by Devon and Cornwall Police's professional standards department.
Its findings were voluntarily referred to the Independent Police Complaints Commission (IPCC), which advised further investigations should be carried out.
The IPCC said an investigation into the conduct of officers was not necessary.
However, it advised the force "there were still areas of concern around allegations made".
Abuser 'abused'
Mr Wyatt said he hoped a new investigation would allow victims to be able to "close the book".
He said: "Goad left a legacy in this city and people are still suffering the effects of it.
"We need to be able to break that legacy and build a platform where victims can feel relaxed about coming forward knowing they're going to be listened to."
Goad, who owned discount shops and market stalls, groomed his victims by offering them jobs and then inviting them home.
During Goad's trial, the jury was told he had boasted of a "record" of sexually abusing 142 boys in one year – a claim later denied.
After he was jailed, Goad wrote to BBC One's Panorama programme, claiming he himself been "physically, sexually and mentally abused for years" at Forde Park approved school in Newton Abbot where he was sent by magistrates aged 10.
The letter said: "What happened to me as a boy messed my whole life up… the authorities who put me into that approved school turned their back on me and I had to cope on my own."
'Put a lid on it'
A Panorama in 2005 about Goad followed information from a detective who was involved in the original investigation.
Former Det Con Shirley Thompson said she always believed there were more victims and more abusers.
She said she was pleased a new investigation would be carried out as there could be "hundreds" more victims who had been – or still were being – abused by paedophiles connected to Goad.
Ms Thompson said when she was called into the inquiry in 2003 after Goad was arrested, a number of victims identified several abusers other than him.
However, it became "apparent", she said, some senior officers wanted to restrict the inquiry and focus the attention on Goad.
"I heard a conversation that said: 'Stick with what you've got – we need to put a lid on it'," she said.
Devon and Cornwall Police said the new investigation was "not directly connected" to the historic William Goad investigation.
"A victim of William Goad has made a number of allegations which are currently being investigated.
"This investigation is likely to take some time and is being progressed by experienced detectives in Plymouth.
"Throughout the historic William Goad investigation, specialist support was given to numerous victims for an extended period of time.
"Should any further information come to light then this will be appropriately investigated."