My Desperate Search To Find The Woman Who Alex Salmond Fed A Solero To In 1999
Alex Salmond's Solero Lady, who are you?
At some point in the past, Alex Salmond fed a Solero to a woman next to a lake on a sunny afternoon.
I had so many questions. Principally, why did Alex Salmond feed a Solero to a woman in what appeared to be the late 1990s?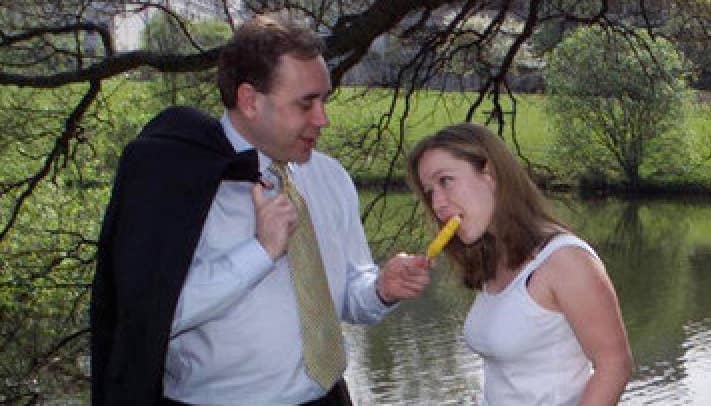 I had to find out more. I set out on a quest to find Alex Salmond's Solero Lady and ask her how this inexplicable scenario came to be.
This was all the information I had: Alex Salmond fed a fruit-based iced lollipop to a woman, and, having visited almost every Scottish student union in a previous life as a wastrel, I knew the feeding took place at Stirling University.
Nothing – I had to change my strategy.
I noticed there was a faint watermark on the photograph naming the photographer, Donald MacLeod. Could Donald help me?
I changed strategy again and enlisted the help of my colleagues.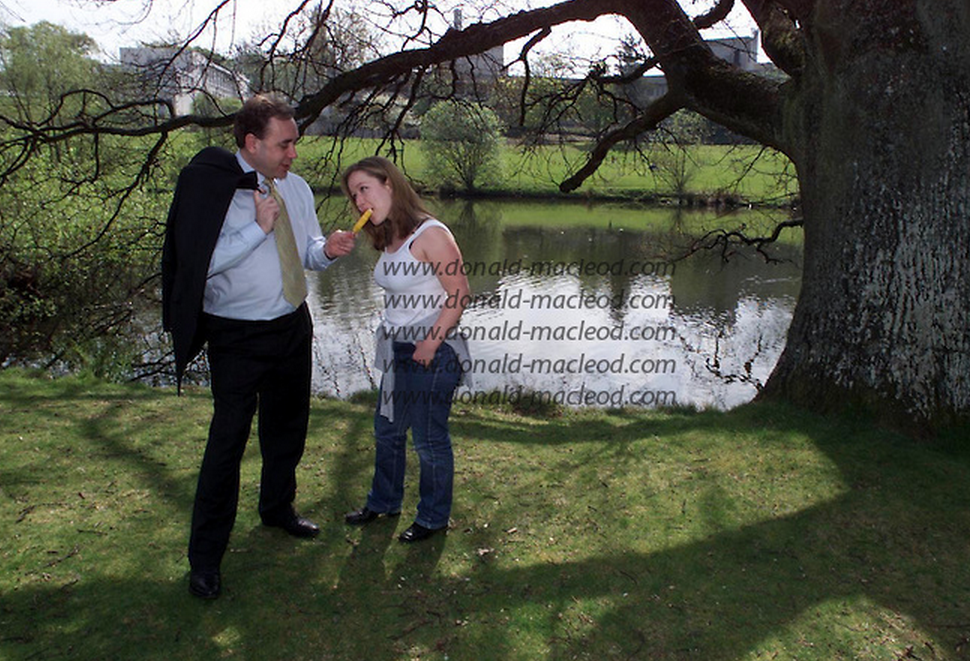 Within 12 minutes, a Twitter user had succeeded where I had been failing for months.
The Daily Record named her as Kate Adamson, aged 17 in 1999. (Note: I am sceptical about it being a "chocolate lolly" – in the photo it is clearly fruit-based.)
But this was a major breakthrough. Alex Salmond's Solero Lady was finally within my grasp.
I turned to Facebook and contacted every Kate Adamson I could find who could feasibly have been fed a Solero by Alex Salmond in Stirling in 1999.
Only one Kate Adamson fitted the bill. I contacted her on Facebook, Twitter, and, finally, her work email. She replied with this.
Bollocks. I had to change strategy again.
I went back over my evidence and realised there was one more option available to me: Stirling University's alumni group. I asked if they knew a Kate Adamson who was at the university in 1999.
As far as I could tell, Alex Salmond's Solero Lady had disappeared off the face of the earth.
Utterly disheartened after one particularly long day of searching, I gave up and tried to forget about Alex Salmond's Solero Lady.
But, after three peaceful months, David Whitley tweeted this Fifty Shades of Grey meme.
There she was again. The angel of my nightmares – Alex Salmond's Solero Lady.
I couldn't get her off my mind.