Huddersfield grooming: Twenty guilty of campaign of rape and abuse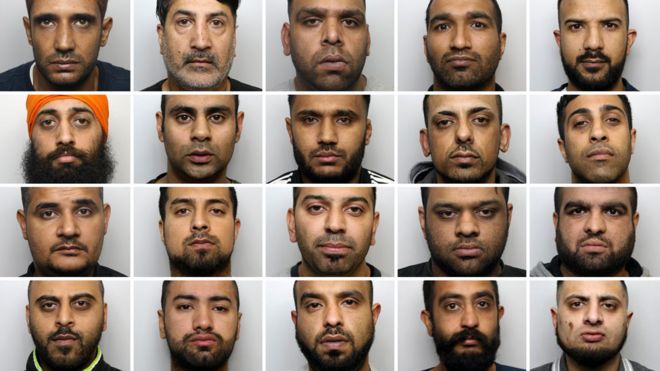 Twenty men have been found guilty of being part of a grooming gang that raped and abused girls as young as 11 in Huddersfield.
The men were convicted of more than 120 offences against 15 girls.
Victims were plied with drink and drugs and then "used and abused at will" in a seven-year "campaign of rape and abuse" between 2004 and 2011.
At Leeds Crown Court, the ringleader, Amere Singh Dhaliwal, 35, was jailed for life with a minimum of 18 years.
Other members of the gang were jailed for between five and 18 years but the court heard many perpetrators have never been identified.
Details of the men's convictions and sentences can only now be published after reporting restrictions on a series of trials were partially lifted.
During the three trials, jurors heard how the men – who are all British Asians mainly of Pakistani heritage – preyed on young, vulnerable girls, one of whom was described as having the mental age of a seven-year-old.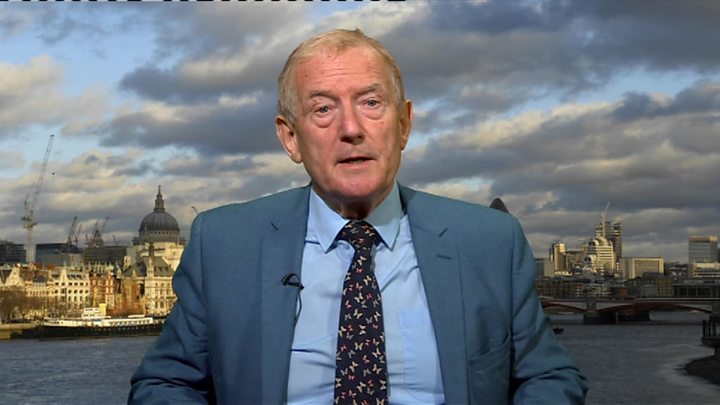 The men, all from Yorkshire, went by nicknames including "Dracula" – which Nahman Mohammed was known as.
Mohammed Imran Ibrar was known as "Bully", Abdul Rehman was nicknamed "Beastie", while Nasarat Hussain was known as "Nurse".
Jailing 16 of the men earlier this year, Judge Geoffrey Marson QC said: "The way you treated these girls defies understanding; this abuse was vile and wicked.
"As cases of sexual abuse with which the courts have to deal, this case comes top of the scale."
As married father-of-two Dhaliwal was sentenced, the judge told him: "The extent and gravity of your offending far exceeds anything which I have previously encountered.
"Children's lives have been ruined and families profoundly affected by seeing their children, over months and years, out of control, having been groomed by you and other members of your gang."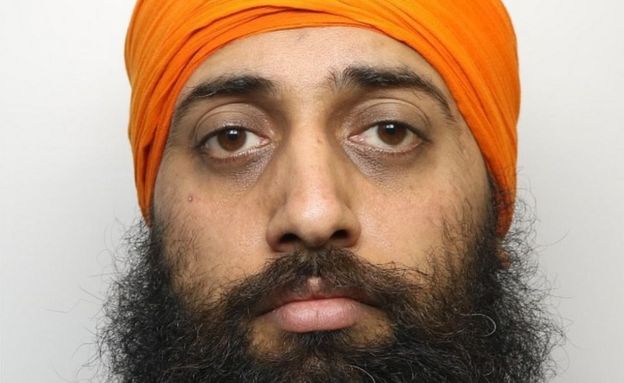 In May, the former leader of the English Defence League Tommy Robinson was arrested for reporting on the case live on Facebook during the second of the trials.
He was jailed for contempt of court but his conviction was quashed because of a number of procedural errors. He faces a fresh hearing in relation to the alleged breach.
Such was the men's hold over the girls, one mother said her child cracked her head jumping from a first-floor balcony at their home in order to get out after they ordered her to meet them.
The girl later told police: "Every time I went out something bad happened. I risked my life every time. I was a mess."
Another victim, who only escaped the abuse when her family had to move following a house fire, said: "It was the best thing I ever did, and that's bad saying that burning your house down is the best thing you ever did."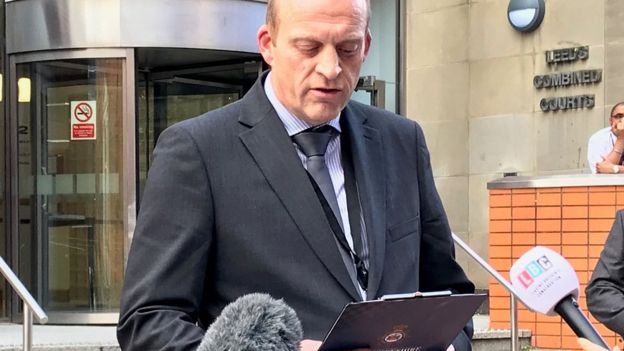 Analysis
By BBC Home Editor Mark Easton
Rotherham, Oxford, Rochdale, Derby, Banbury, Telford, Peterborough, Aylesbury, Bristol, Halifax, Keighley, Newcastle… now Huddersfield. The list seems endless… and there will almost certainly be more.
The sexual abuse of vulnerable children in English towns by groups of men, often from immigrant communities, is an incarnation of a wider scandal that is dominating our news and overwhelming our police and our courts.
It is a crime that until recently was rarely discussed in public. Child sexual abuse was often ignored or covered up: the protection of institutional reputation or community cohesion put before the protection of children.
The grooming gangs of provincial England tend to operate where the disinfectant of public scrutiny struggles to reach – poorer neighbourhoods on the edge of town, around the mini-cab ranks and fast food joints, the twilight zones of urban life.
Child abuse thrives in such dark corners, where people look the other way, not asking questions or following concerns because the subject matter is uncomfortable and scrutiny is potentially damaging. But when we look, we find.

During the trials, the court heard girls would be driven up to remote moorland late at night and abandoned if they refused the men's sexual demands.
A sheep farmer told the BBC how he found distressed girls on the doorstep of his isolated home on a number of occasions.
One victim said her relationship with some of the gang became "one of those things that you couldn't get out of".
At house parties, girls would be plied with alcohol and drugs before being sexually abused "one by one" by the men, sometimes without contraception.
The court heard they were abused in cars, car parks, houses, a snooker centre and a takeaway, often with other defendants and fellow victims watching on.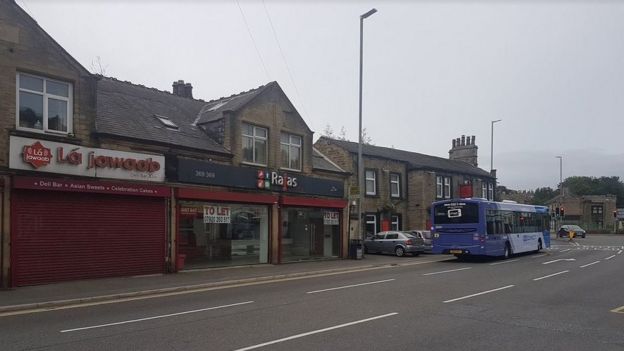 Victims and their families said they repeatedly told West Yorkshire Police what was happening but no arrests were made until years later.
Speaking outside court, Det Ch Insp Ian Mottershaw, from the force, said: "The investigation into this case has been extremely complex and the investigative team have worked tirelessly for the past five years to ensure that no stone has been left unturned.
"We welcome the convictions and sentences which have been passed down throughout the year to these depraved individuals, who subjected vulnerable young children to unthinkable sexual and physical abuse."
Barry Sheerman, Labour MP for Huddersfield, said: "Let's be honest: no-one, local authority leadership, police, many of the people that should have been taking this more seriously earlier did not.
"But also, what happened in Rotherham and the publicity of Rotherham galvanised the action."
Steve Walker, director of children's services at Kirklees Council, said it had asked independent expert Dr Mark Peel to undertake a review of "these non-recent cases to identify whether there are any lessons we can learn".
"These crimes took place a number of years ago at a time when, as we know from cases in other towns and cities, the issue of CSE was not well understood," he added.

The convicted men:
Amere Singh Dhaliwal, 35, of Holly Road, Huddersfield, guilty of 54 counts, including 22 counts of rape, sentenced to life with a minimum term of 18 years
Irfan Ahmed, 34, of Yews Hill Road, Huddersfield, guilty of one count of sexual assault and two counts of trafficking for sexual exploitation, sentenced to eight years
Zahid Hassan, 29, of Bland Street Huddersfield, guilty of six counts of rape, one count of attempted rape, one count of sexual assault, one count of trafficking for sexual exploitation, two counts of child abduction, two counts of supplying class A drugs sentenced to 18 years
Mohammed Kammer, 34, of West View, Huddersfield, guilty of two counts of rape, sentenced to 16 years
Mohammed Rizwan Aslam, 31, of Huddersfield Road, Dewsbury, guilty of two counts of rape, sentenced to 15 years
Abdul Rehman, 31, of Darnely Drive, Sheffield, guilty of supplying a class C drug, one count of rape, one count of assault and one count of trafficking for sexual exploitation, sentenced to 16 years
Raj Singh Barsran, 34, of Caldercliffe Road, Huddersfield, guilty of rape and two counts of sexual assault, sentenced to 17 years
Nahman Mohammed, 32, of West View, Huddersfield, guilty of two counts of rape and one count of trafficking for sexual exploitation, sentenced to 15 years
Mansoor Akhtar, 27, of Blackmoorfoot Road, Huddersfield, guilty of two counts of rape and two counts of trafficking for sexual exploitation, sentenced to eight years
Wiqas Mahmud, 38, of Banks Crescent, Huddersfield, guilty of three counts of rape, sentenced to 15 years
Nasarat Hussain, 30, of Upper Mount Street, Huddersfield, guilty of three counts of rape and one count of sexual assault, sentenced to 17 years
Sajid Hussain, of 33, of Grasmere Road, Huddersfield, guilty of two counts of rape, sentenced to 17 years
Mohammed Irfraz, 30, of North Road, Huddersfield, guilty of child abduction and two counts of trafficking for sexual exploitation, sentenced to six years
Faisal Nadeem, 32, of Carr Green, Huddersfield, guilty of rape and supplying class A drugs, sentenced to 12 years
Mohammed Azeem, 33, of Wrose Road, Bradford, guilty of five counts of rape, sentenced to 18 years
Manzoor Hassan, 38, of Bland Street, Huddersfield, guilty of administering a noxious substance, inciting child prostitution and supplying a class A drug, sentenced to five years
Mohammed Akram, 33, of Springdale Street, Huddersfield, guilty of two counts of rape and two counts of trafficking for sexual exploitation and awaiting sentencing
Niaz Ahmed, 54, of Woodthorpe Terrace, Huddersfield, guilty of sexual assault and inciting a child to engage in sexual activity and awaiting sentencing
Asif Bashir, 33, of Thornton Lodge Road, Huddersfield, guilty of, rape and attempted rape and awaiting sentencing
Mohammed Imran Ibrar, 34, of Manchester Road, Huddersfield, guilty of trafficking for sexual exploitation and assault and awaiting sentencing