Harriet Harman wears feminism T-shirt to prime minister's questions
Deputy Labour leader tweets picture after David Cameron draws criticism for refusing to wear garment
Press Association

The Guardian, Wednesday 29 October 2014 14.26 GMT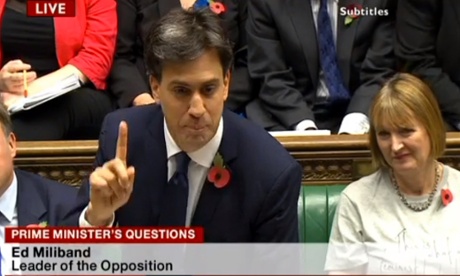 The deputy Labour leader, Harriet Harman, wore a feminist T-shirt at prime minister's questions following David Cameron's refusal to don the garment as part of a campaign.
Harman sat next to the Labour leader, Ed Miliband, on the bench opposite the prime minister for the weekly Commons clash, wearing a T-shirt with the slogan: "This is what a feminist looks like."
Miliband and the Liberal Democrat leader, Nick Clegg, have both posed in the T-shirt as part of an Elle magazine campaign, but Cameron refused.
Before going into the Commons chamber
Harman tweeted a picture of herself
in the T-shirt, saying "this is what a feminist will look like at prime minister's questions".
But the Tory press office shot back at Harman, asking: "And what does getting your husband through an all-women shortlist look like?"
Harman's husband, Jack Dromey, was elected as MP for Birmingham Erdington after Labour's National Executive Committee ruled out an all-women shortlist for the constituency despite insisting on the measure in other seats.
Earlier this week Elle magazine said the prime minister's decision not to join other party leaders and celebrities in sporting the feminist slogan suggested he "still has an issue with the word".
No 10 issued a supportive quote from Cameron for the campaign which said he was "committed to doing everything I can do to remove barriers for women and achieve a fairer society".
But the Elle editor-in-chief, Lorraine Candy, said it "doesn't bode well" for the fight for equality "when the man in charge doesn't engage" by posing in the shirt.
Candy said the magazine had asked five times for a photo but had been rebuffed on each occasion.
"This is a shame on so many levels, especially given he knew Nick Clegg and Ed Miliband had agreed without hesitation, alongside many other influential men who were more than happy to call themselves feminists."