former Celtic Boys Club boss jailed for molesting children
Frank Cairney was sentenced to four years in prison after being found guilty of sexual abuse.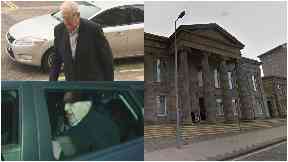 A former manager of Celtic Boys Club who sexually abused eight teenagers has been jailed.
Frank Cairney, 83, was sentenced to four years in prison after being found guilty of nine charges of molesting young boys at football clubs he ran between 1965 and 1986.
He was found to have abused the teens while running St Columba's Boys Guild in Viewpark, Lanarkshire, and the under-16s team at Celtic Boys Club.
Cairney joined Celtic Boys Club in 1971 after being asked to run the youth side by legendary manager Jock Stein.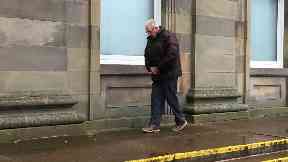 He molested youngsters in a church hall, in his car and at Celtic's Barrowfield training ground.
Cairney returned to court for sentencing after being released on bail.
Sheriff Daniel Kelly said football coaching provided Frank Cairney with "sinister cover".
He told him: "This was a sinister cover for you to use your powerful position to prey upon young boys.
"You were entrusted in the church community and had a great say at Celtic Boys Club in which young players went to play and have successful careers.
"You were a wolf in sheep's clothing. To parents you appeared to be a revered football manager, but little did they know you were in fact an active paedophile.
"In many cases, no other adults were present with you.
"It was left to the boys at the church football team to protect each other to ensure no one was left alone with you. It's disturbing at this time the boys did speak to a priest and others but matters were not addressed.
"This approach enabled you to move onto Celtic Boys Club."
Outside court, victims, some who waited more than 50 years for justice, said they were pleased with the sentence.
One said: "It's a relief. We have gone through this court process for two years but some of us have waited over 50 years for this day.
"To see Cairney found guilty and jailed gives us some closure but we are still dealing with the consequences of what he did every day.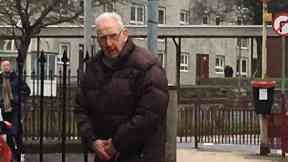 "He used his high standing at Celtic FC though his work with the boys clubs to gain access to innocent young boys like myself and abuse them in the most horrible way.
"I'm glad Cairney will now pay for his crimes and this brings a small amount of closure to myself and other victims.
"What me and the other victims of abuse at Celtic now want to see is the senior club take responsibility for the action of these abusers who operated with complete freedom within Celtic Park.
"The stance Celtic have taken saying they do not have any legal responsibility is revolting and insulting. Celtic FC called the shots with the boys club. It's time the club acted with some basic decency over our legal claims."
Another victim said: "I am glad that this evil abuser of children, Frank Cairney, has received a custodial sentence.
"However four years seems completely insufficient for the life time sentence myself and other's abused by this man continue to serve.
"What this monster did to me I will take with me to the grave.
"I wish the authorities in this country would take a look at the sentences handed down to men like Cairney and ask themselves whether they really feel they are sufficient for the crimes."
'What this monster did to me I will take with me to the grave'

Victim
He added: "I would also like to say to Celtic Football Club who continue do deny they have any responsibility for what went on at the boys club, how can you live with yourself?
"I believe that Celtic knew what was going on at the boys club and did nothing. How many children were abused and lives ruined because you chose to do nothing?
"Now you say that myself and other survivors have no civil case against you. All I can say is shame on you Celtic Football Club."
A spokeswoman for Celtic said: "Although Celtic Football Club is an entirely separate organisation to Celtic Boys' Club, we wish to express our deep regret that these incidents took place, as well as our sympathy for the victims who suffered abuse".
"We are grateful for the courage of those who have come forward to report abuse and to give evidence after such a long period of time.
"We have great respect for them and their families as they continue to cope with the distressing effects of the abuse they suffered".
"The abuse of children is an issue affecting many areas of society, including a large number of football clubs, sports clubs, youth organisations, educational institutions and religious bodies across Britain.
"Celtic Football Club strongly believes that children and young people involved in football have the right to protection from all forms of harm and abuse and is committed to ensuring this and to promoting their wellbeing through continued cooperation with our children and young people, parents and carers and the relevant authorities."