Catholic officials threaten to sue ex-altar boys over sexual misconduct allegations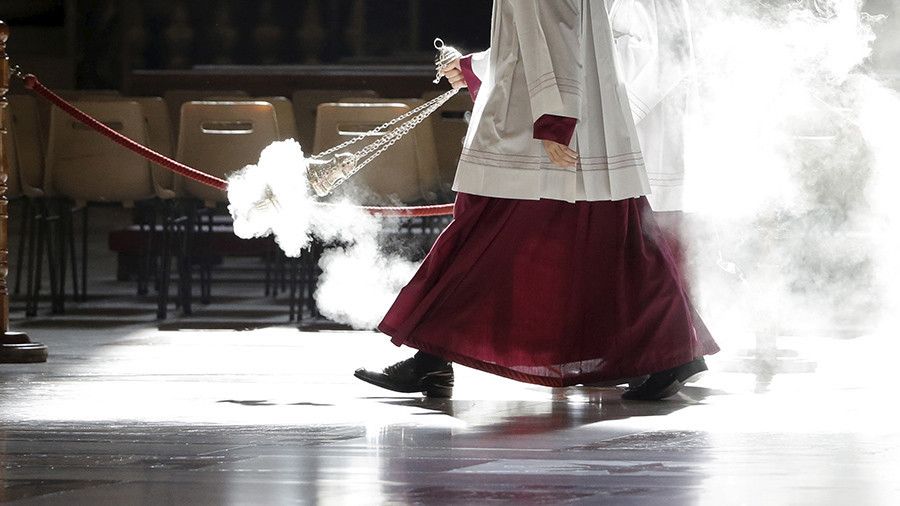 Catholic Church officials in Italy have threatened to file criminal defamation charges against former altar boys of the Pope, after they accused an older seminarian of sexual misconduct. The alleged crimes reportedly occurred within the Vatican's walls.
The claims originated from an ex-student identified as "Marco," who says a seminarian one year older than him would come into his dorm room at night and demand oral sex. This began when Marco was 13 and continued until he was 18, the alleged victim told Italian reporter Gaetano Pecoraro.
Marco's roommate, Kamil Jarzembowski, says he witnessed dozens of such incidents, and brought them to the attention of seminary officials. He then wrote to cardinals, and ultimately to Pope Francis in 2014.
Church officials say internal investigations were conducted and the claims determined to be false. However, officials did not interview the boys in question, according to AP. Marco, Jarzembowski, and a third boy who reported a groping incident when the seminarian was 20 and he was 15, went public with their allegations in a book and series of investigative reports on Italia 1 TV's program "Le Iene" ("The Hyenas").
The public allegations haven't gone over well with the Catholic Church, whose officials are reportedly now threatening the three alleged victims with criminal defamation charges, AP reported on Friday.
Riccardo Rolando Riccardi, a lawyer representing the Catholic association Opera Don Folci which runs the Vatican's St. Pius X pre-seminary, wrote in a November 17 letter to at least one former student that he was preparing a criminal defamation case in Rome's tribunal. The letter states the case "for the alleged crime committed by the divulgation of news to the press about alleged acts of sexual assault that allegedly occurred" in the seminary. The letter, seen by AP, instructed the ex-student to come in for questioning or face interrogation by prosecutors in Rome.
Opera Don Folci had previously addressed the boys' claims on its website, calling them "mud," a "violent attack on the church," and "nothing more than calumny and falsifications."
Meanwhile, Le Iene revealed during a broadcast last week that it had received a letter from the diocese of Como warning it against proceeding with the story. The program showed the letter on air, which once again stressed that a church investigation had shown "everything that was alleged turned out to be unfounded." Lawyers in the diocese of Como have also warned Mediaset television network, which oversees the Le Iene program, against broadcasting the boys' claims.
However, Le Iene's Pecoraro also interviewed Rev. Andrea Stabellini, the Como vicar who conducted the investigation. Thinking the camera wasn't rolling, Stabellini admitted he had recommended the probe continue because he believed there was sufficient evidence to support the boys' claims. Pecoraro told AP he has since learned that church officials were pressuring Stabellini to recant that view.
Stabellini was overruled in the original investigation by other church officials, with top Vatican cardinal Angelo Comastri – who oversees the seminary as the Pope's vicar for Vatican City – intervening in the case. Comastri has denied any cover-up, saying he ordered three separate investigations about alleged wrongdoing in 2013.
The accused became a priest this year, with the diocese of Como stating earlier this month that church superiors had investigated claims against the former seminarian and had deemed him worthy of becoming ordained. It said that church authorities in Rome had also given him a "positive" evaluation.
Meanwhile, the Vatican says it has launched another investigation into the reports. It claims the new probe is aimed at trying to shed "full light on what really happened."