AS IT HAPPENED: The Alex Salmond trial — Day 5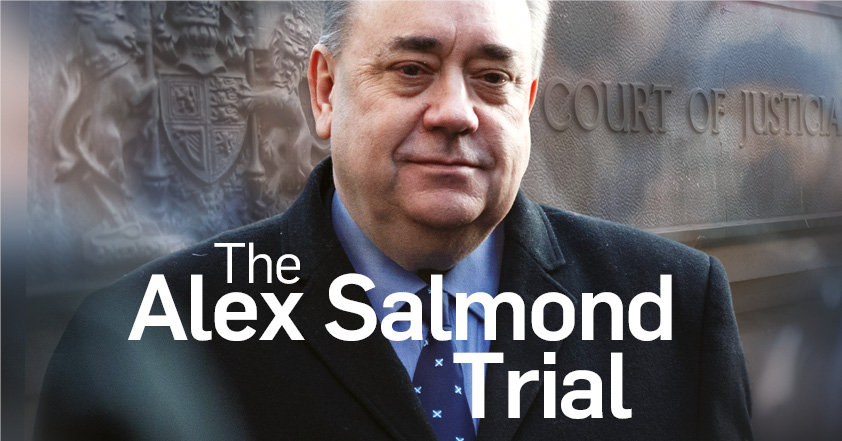 Sign up for our daily Politics briefing for political exclusives, analysis and debate.
Former First Minister Alex Salmond has gone on trial accused of a string of sexual assaults and attempted rape.
The trial, in front of Lady Dorrian and a 15-strong jury, began at the High Court in Edinburgh on Monday March 9.

Salmond, 65, of Strichen, Aberdeenshire, denies all 14 charges against him, having submitted a plea of not guilty.
His counsel has launched the special defence of consent to a number of the charges (3,5,7,8) and an alibi of not being in the location the alleged offence took place in charge 11.
Follow the Day 5 evidence as it happened:
Breaks in updates are to ensure the anonymity of witnesses.
To read the charges facing Alex Salmond click here
Updated: 13 hours ago
Day 5 of the trial is now underway.
Woman K is now giving evidence to the court.
Woman K is a long-serving senior civil servant and is the complainer in a charge of sexual assault against former First Minister Alex Salmond
Woman K says she was at a dinner with Salmond when he grabbed her buttocks.
Says she was "mortified".
Under cross examination, Woman K tells the court she felt Salmond grabbed her buttock "because he could".
Updated: 14 hours ago
Woman K has completed giving evidence
Woman J, an SNP worker, is to begin giving evidence.
Following a brief break, Woman J is continuing to give evidence to the court
Woman J tells the court about an incident at Bute House.
Salmond had asked her if he had seen "that zombie movie"
Salmond then proceeded to do an impression of a zombie, she tells the court.
The impression of the zombie involved him stretching his arms out, Woman J tells the court.
She adds he took "a couple of clumsy steps with his arms outstretched".
Woman J "I didn't understand what was going on"