MANY THANKS TO @llJOSEPHXll For making me look twice!!
---
PATRICK FRIPPS IS THE FOUNDER OF KEEPING KIDS SAFE (K.K.S)
K.K.S ARE PAEDO HUNTERS. WHICH YOU CAN SEE HERE ON YOUTUBE
K.K.S on FACEBOOK @Internet.Justice & on TWITTER @KKS4TheKids
NOW IT MAY BE AN INNOCENT MISTAKE (aye ok then!!) BUT THOSE WHO HAVE DONE THEIR HOMEWORK WILL KNOW, the LOGO K.K.S are using is a PAEDO SYMBOL! IT'S EXACTLY SAME SYMBOL PAEDO USE to recognise a place, situation etc that's PRO-PAEDO & so they can easily recognise another vile piece of paedo scum! We KNOW this, because the FBI TOLD US YEARS AGO!
A HEART WITHIN A HEART! WTF?? IS HUFFY TAKING THE PISS? OR COULD IT POSSIBLY BE SOMETHING AHELLAVALOT MORE SINISTER?
I DON'T KNOW.. But one thing i do know, I don't trust him as far as i could throw him
ANYHOO, BACK TO FRIPPS, CAUSE ALL IS NOT WHAT IT SEEMS WI HIM.. MR PATRICK FRIPPS HAS ALIAS-ES & GOES BY ALL OF THE FOLLOWING NAMES
Daniel or Dan Hall     Jamie Ray Upton      Patrick or Paddy Fripps
(This could get confusing so i'm gonna call him HUFFY for short)
---
DANIEL HALL
(wee intro, more on him later)
PADDY FRIPPS
https://www.facebook.com/paddy.fripps.56       https://archive.is/YEQQr
His FACEBOOK page says his D.O.B is 7th of Sept 1985 Is that his REAL D.O.B I wonder?! If it is, this blog's gonna make a wonderfully generous pressie & it will be a delightful wee surprise for him! So, *HAPPY BIRTHDAY HUFFY* I truly hope you get everything you deserve. (ya vomit inducing piece o shite)
PATRICK FRIPPS
https://www.facebook.com/patrick.fripps.14   https://archive.is/GOTj7 29th April 2017
JAMIE RAY UPTON
https://www.facebook.com/profile.php?id=100006277787988 https://archive.is/t0WWY
HUFFY WAS THE LEADER OF NOTTS EDL (no anymore he aint but!) HE IS NOW Ex-EDL CAUSE THE EDL HAVE A SLIGHT AVERSION TO HUFFY! SO MUCH SO IN FACT, THEY MADE A VIDEO ABOUT HIS "ANTICS" PLEASE WATCH IT'S VERY SHORT
SO LOOKS LIKE HUFFY IS A THIEVING, LYING, FRAUDULENT BASTARD! Whooda thunk it?! & that being the case, it should come as no surprise to anyone when I say that the Huffy fekker has a Just Taking page https://www.justgiving.com/fundraising/patrick-frippshttps://archive.is/Qgnmy
Which is a tad odd & kinda funny in a way cause so did JO COX… Except hers was actually a GO F*CK YERSELF page. But they are both the same idea, crowd funding, only wi a different name. (Aye okay… it's a GO FUND ME page!)
£2 MILLION SHE / THEY STOLE
Stolen by way of fraudulently accepting the money donated by the kind but oh-so-deluded & revolting peasants..
(Before anyone starts, I can & will say what i like!! no as if she can sue me! a. CAUSE IT'S TRUE & b. CAUSE PEOPLE THAT ARE MEANT TO BE DEAD, CANNY SUE ANYONE!)
https://www.facebook.com/v2.3/plugins/post.php?app_id=249643311490&channel=https%3A%2F%2Fstaticxx.facebook.com%2Fconnect%2Fxd_arbiter%2Fr%2FlY4eZXm_YWu.js%3Fversion%3D42%23cb%3Df30402a34b0506%26domain%3Dspidercatweb.blog%26origin%3Dhttps%253A%252F%252Fspidercatweb.blog%252Ff23efeb5199cd64%26relation%3Dparent.parent&container_width=552&href=https%3A%2F%2Fwww.facebook.com%2FInternet.Justice%2Fphotos%2Fgm.1410888228980313%2F283146568833792%2F%3Ftype%3D3%26permPage%3D1&locale=en_US&sdk=joey&width=552
https://www.facebook.com/v2.3/plugins/post.php?app_id=249643311490&channel=https%3A%2F%2Fstaticxx.facebook.com%2Fconnect%2Fxd_arbiter%2Fr%2FlY4eZXm_YWu.js%3Fversion%3D42%23cb%3Df3869dac6ff16fc%26domain%3Dspidercatweb.blog%26origin%3Dhttps%253A%252F%252Fspidercatweb.blog%252Ff23efeb5199cd64%26relation%3Dparent.parent&container_width=552&href=https%3A%2F%2Fwww.facebook.com%2FInternet.Justice%2Fposts%2F289505304864585&locale=en_US&sdk=joey&width=552
A fair chunk of the £2 million they STOLE, unbeknown to the the people who were donating, was EARMARKED & went to the WHITE HELMETS. Which is good.. I mean they MUST be good, cause white is good & black is bad & anyway MSM ADORES the white helmets so thats good..
Ha ha haa ha! That was a nice wee fantasy world I had goin there for a minute!! The White helmets are linked to the CIA, MI6 & al Qaeda NUFF SAID
Jo's hubby (Brendan) had to leave his job wi Save The Children cause various women's complained of 'inappropriate behaviour' (Save the children? Another charity & EVEN MORE kids.. FANTASTIC!) Brendan once worked for the then prime minister Gordon BUG EYED PAEDO Brown. Brendan was paedo Brown's "SPECIAL ADVISOR" Wonder what was so special that Brendan was advising him about? Who knows?
ANYHOO, THAT LEADS ME EVER SO NEATLY ON TO THIS……
The group put up a picture of the York Central Labour MP, with the warning: 'This b***h needs to disappear.' According to the Guardian live blog, it was put up at 9.39am. It has since been removed, as has another post which claimed the attack on Mrs Cox was 'only a matter of time'.
Sharing an article on the MP's tragic death, the group wrote:
'We knew it was only a matter of time before we take it to the next level.'We have been mugged off far too long.'
Chillingly, they add: 'Now is the time.'
In a statement, they claimed the post was simply badly worded.
'Last night's post due to the way it was worded does come across wrong,'
the group wrote.
'What is meant by the post is, the tensions between far left and far right have been so hostile and it is only a matter of time until a lose cannon with nothing to loose goes to far. We have received many death threats every day and we believe it's only a matter of time before one of us ends up in a hospital or even worse a mortuary.'
The group said the admin who wrote the post has also been removed. The Notts Casual Infidelssay they 'are a free lancing movement that originally came from the football scene. Which now tackle the islamification of Great Britain [SIC]' However, there is no suggestion Thomas Mairknew the Notts Casual Infidels.. IN FULL dailymail https://archive.is/UHhUS
WIKI QUOTE a long-serving officer with the Met Police Special Branch, Lambert was a key member of its secretive SDS He served both as an undercover officer – using the false identity 'Bob Robinson' to infiltrate the environmental and animal rights protest movement in the 1980s – and then later as an influential manager of the unit in the 1990s. He subsequently set up the Muslim Contact Unit within Special Branch, which worked with British Islamists purportedly to temper radicalisation, before retiring from the police in 2007. He then began a successful second career as an academic, building on his work at MCU.
---
June 24th 2016 Charity boxing match cancelled because of Casual Infidels comment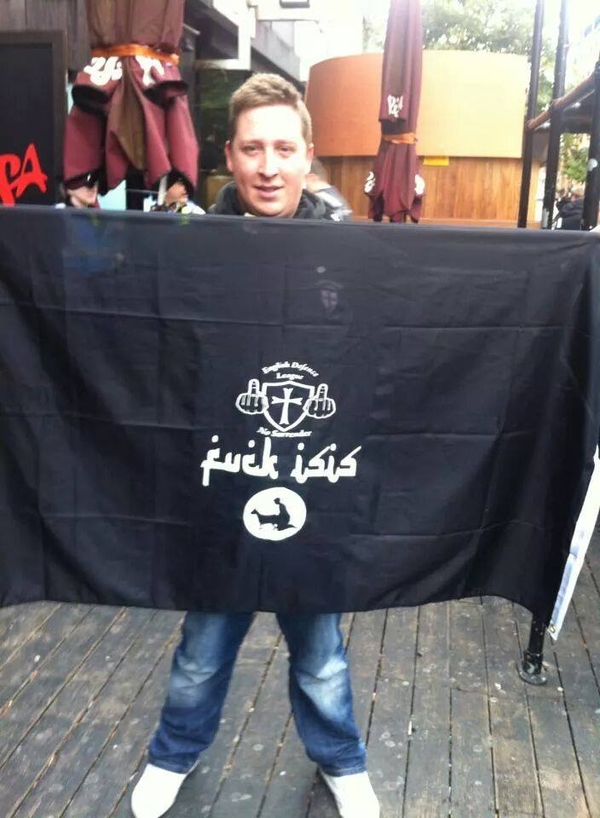 Jamie Ray Upton AKA Daniel Hall from Mansfield
A charity boxing match has been canceled following the comments made by one of the Notts Casual Infidels about the murder of Jo Cox MP.
Jamie Ray Upton AKA Daniel Hall from Mansfield, is the group's spokesman & runs their Facebook page.
In the aftermath of Cox's murder while others were expressing shock and disgust, Upton – presumably worse for wear after England's victory over Wales in the Euros – responded by posting
facebook Notts Casual. nfidels
So, a quick summery of all the dodgy crap surrounding HUFFY. We have
THE PAEDO SYMBOL
HUFFY's numerous names
EDL saying HUFFY is a liar, thief & conman
HUFFY stole the EDL's money, which they got from donations & merchandise sales, namely cups, tops etc. & so do KKS & they get donations too..
HE SAID HIMSELF He fully intended to start a new charity "scheme
HUFFY is doing good crap for Charibleugh. & so far has amassed nearly £2000 of donations to his holiday savings fund aka Just Giving account (See, I can do aka too!!)
My gut instinct. Which is SCREAMING that HUFFY is – in general – a total fucking arsehole.
Add to that the          MANY SIMILARITIES BETWEEN JO BOLLOX & HUFFY
Huffy's inane, racially aggravating comments about the whole Brexit & Jo Bollox stuff.. Which UNBELIEVABLY managed to make it in to several MSM newspapers (WHAT? I've been a total bitch bout Jo Bollox – IN PUBLIC – lots of times but NOT ONCE has it even made it in to a local rag far less SEVERAL nationals)
Huffy had a crowdfund account – – So did Jo Bollox
Huffy works saving kids – – Brendan Bollox worked saving kids
Huffy's work means he is around paedo – – Brendan Bollox work meant he was around paedo – (Brown & every other MPaedo & VIPaedo surrounding the govt)
Huffy's links to EDL & Notts Casual Infidels – – We've been told Jo Bollox's (non) killer shouted "Britain 1st" (did he fuk) Told he was into all that far right crap
EDL said Huffy was off to PEGIDA Pegida is linked to BRITAIN FIRST
& then add…                           THE SECRET SERVICES
Jo & Brendan Bollox had NUMEROUS links to the security services…
Special demonstration Squad The SDS was a part of Special Branch, but they VANISHED into thin air around 2014. We are meant to believe they just stopped.. 😂🤣😂🤣😂 OKAY THEN! I very much doubt that's the case. Much more likey they've just changed the name & gone underground. (God knows what it is called now.) The SDS are infiltrators. They infiltrate groups like EDL & animal rights groups. They can be undercover for years, & have been known to deliberately have relationships & children with the women just as part of their infiltration, they spy & they stir shite up & cause trouble. They are paid to screw the women & gee up the male neanderthal thugs, whipping it all up in to a flippin great frenzy.. Similar to what they did after Indy Ref. When for no reason & after weeks of nothing but calm ALL O A SUDDEN it all kicked off, of its own accord?? Aye right!
Like HUFFY, the SDS get LOTS of MSM exposure…
(wee bit extra info for fun! Do you know, Scotland's TopCop Gormley is Ex SDS?! #TrueThat)
All of which leads me to one question..
DOES HUFFY HAVE ANY LINKS TO ANY SECRET SERVICES?
I d'no, am just wondering out loud…. But, lets pretend, just for a wee minute (purely for arguments sake) that Huffy does have links to MI5 or some similar organisation
IF he did... then it would be WAY MORE THAN LIKELY he is being paid to infiltrate the child sexual abuse "scene"
IF he was / is …. THEN COULD THAT POSSIBLY BE SO AS TO
CAUSE TROUBLE?
SPY?
GET ACCESS TO KIDS?
ALL O THE ABOVE?
OR
IS IT ALL JUST BECAUSE HE'S A THIEVING, FUCKSHITTED, VILE PIECE OF CRAP THAT IS WILLING TO DO JUST ABOUT ANYTHING FOR MONEY?
I AIN'T GOT A SCOOBY.. DO YOU?
*****************************************************
PLEASE SHARE WIDELY AS PEOPLE DON'T KNOW & ARE STILL BEING CONNED INTO GIVING HIM MONEY
*****************************************************
---
SOURCES & STUFF NEEDING MORE RESEARCH!!